COVID-19
Nigeria Records 160 New COVID-19 Cases, Total Hits 59,287 With 1,113 Deaths
The Nigeria Centre for Disease Control (NCDC) on Saturday night announced 160 new COVID-19 infections, which take the total confirmed cases in the country to 59,287.
NCDC, in its daily update, said the new cases were recorded in 12 states of the federation and FCT.
Rivers State recorded the highest cases of the day with 42 infections, followed by Lagos State which reported 32 cases.
Others are; Plateau (21), FCT (18), Kaduna (14), Ogun (11), Katsina (10), Kwara (3), Ondo (3), Imo (3), Anambra (1), Abia (1) and Oyo (1).
It added that a person died from complications resulting from the virus while 125 persons recovered and were discharged from various isolation centres across the country the same day.
Currently, Nigeria's total confirmed COVID-19 cases stand at 59,287; 50,718 recoveries and 1,113 deaths.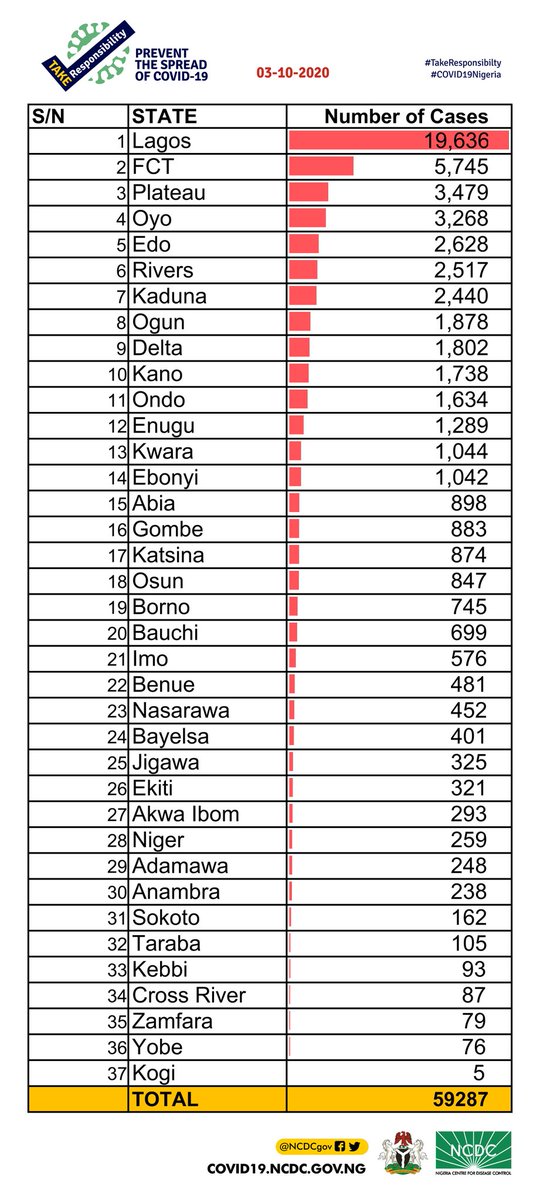 Help Aledeh News deliver the independent journalism Nigeria and the world need. Support us by making a contribution. Your donation allows Aledeh News to be completely independent. But it also means this online platform is only possible because of the support of readers like you. 
Support Now!