Aliko Dangote: His Rise, His Loss And How He Gave Recession A Bloodied Nose
Not too many men can be identified just by the mention of their first name. A search of the name Aliko will by default lead you to the very man you sought. Adding his last name seals it all. From a relatively unknown Nigerian businessman in the 70s to Africa's most successful business guru in the world…this is the story of Aliko Mohammad Dangote; Nigeria's number one businessman.
Born April 10, 1957 into a very prominent business family in Nigeria and being the great grandson of Alhaji Alhassan Dantata, the richest African at the time of his death in 1955, Aliko Dangote has shown that success as a passionate entrepreneur is not limited to national origin, race or ethnicity.
Though Dangote has achieved a lot as a businessman and also as Africa's richest man, there are "many sides of his life that he hates to be told". We take look at these sides.
ALIKO DANGOTE AS A TRUE NIGERIAN AND RESPECTER OF ALL RELIGION
Though the business mogul was born in Kano state, northern part of Nigeria, Africa's most populous country, Aliko Dangote relocated to Lagos, Nigeria's commercial city in 1977, where he has since made his home.
Dangote is a detribalized Nigerian who has defied ethnic and religious persuasions in extending support to the poor and vulnerable, providing employment opportunities without discrimination, while inspiring and mentoring young Nigerians to greatness.
His business empire that commenced more than three decades ago is one of the largest private employers in Nigeria as well as the most valuable conglomerate in West Africa. Though a Muslim, religion has never been associated with employment in Dangote Group. A check on his employee list is a testament to this. It goes to show that Aliko is a true Nigerian and a respecter of all religion.
ALIKO DANGOTE AS A REFORMER/DEVELOPER
After graduating from Egypt's Al-Azhar University, one of Islam's prestigious universities in 1977 at age 21, Dangote managed to convince his uncle to lend him $500 to start a business.
The brilliant businessman invested the $500 loan into a small business then. He began importing and selling agricultural commodities in Nigeria.Two of his main imports were rice from Thailand and sugar from Brazil. He then sold these items in small quantities and at a lucrative markup to consumers in his village.  The Dangote Group business venture quickly became a success. Dangote says on some of his best days, he was realizing a daily net profit of $10,000 and as a result, he managed to repay the entire loan within three months of starting operations.
How Aliko Dangote who doesn't trade in oil and has never been in government, was able to turn a $500 loan in 30 years into the largest business conglomerate in Nigeria and West Africa, remains a mystery which goes on to show how good a reformer he is.
From a company that started in Kano, northern part of Nigeria, the Dangote Group has grown to become the largest employer of labor in Nigeria and West Africa, and is the second largest employer in the African continent.
The Dangote Group manufacture cement, sugar, milk and pasteurized milk, noodles, macaroni, spaghetti, tomato paste, fruit juice, flour, bread, rice, and the essential daily food needs of nearly 600 million Africans.
Dangote's ideology of importation changed in 1997 when he realized that acting as a middleman was a very costly endeavor, and so he built a plant to produce what he had been importing and selling for the previous 20 years.
His company, Dangote Group began to produce pasta, sugar, salt and flour and around the same time, Dangote was awarded a state-owned cement company.
In the 90s, Dangote approached the Central Bank of Nigeria (CBN) with the idea that it would be cheaper for the bank to allow his transport company to manage their fleet of staff buses, a proposal which was also approved and has been running till date. Similarly in July 2012, Dangote approached the Nigerian Ports Authorities to lease an abandoned piece of land at the Apapa Port, which was approved and later he built facilities for his flour company there.
In 2005, Dangote expanded the operations of the company by constructing a multimillion-dollar manufacturing plant. The construction was financed with $319 million of Dangote's own money in addition to a $479 million loan from the World Bank International Finance Corporation.
Since operation commenced, each of his manufacturing divisions has since been separated into different publicly traded companies. In 2007, Dangote Sugar Refinery Plc. was listed on the Nigerian Stock Exchange. In September of that same year, the company's market cap was ₦82 billion. Dangote subsequently took his salt, flour and cement segments public. These businesses became the National Salt Company of Nigeria Plc., Dangote Flour Mills Plc. and Dangote Cements Plc. respectively.
Ever since he commenced his Dangote Group in the 70s, Dangote has always reinvested the majority of his profits back into his businesses, which is one reason the company has grown so much since inception.
Giving reason for this decision, Dangote had told Al Jazeera News that "we [Dangote Group] are not doing like other Africans who keep most of their money in the bank. We do not keep money in bank. We fully invest whatever we have and we keep on investing".
Dangote has also recently joined the oil and gas industry, a sector that he purposely avoided for most of his career. In 2007 he purchased an oil refinery in Lagos, Southwest Nigeria. Third quarter of 2017 the oil refinery was commissioned.
July 31, 2017,  the Federal Government urged Dangote to complete his refinery before 2019, which will significantly reduce Nigeria's reliance on international suppliers for oil and gas.
The government made the call through the Minister of State for Petroleum Resources, Ibe Kachikwu, who visited the Dangote oil refinery site at Lekki Free Trade Zone, in Lagos, southwest of Nigeria.
During the visit, Dangote noted that his group is building the world's largest single line refinery, Petrochemical Complex, and the world's second largest Urea Fertiliser plant.
Dangote then revealed that the refinery will have the capacity to refine 650,000 barrels of crude oil per day, adding that the Petrochemical Plant will produce 780 KTPA Polypropylene, 500 KTPA of Polyethylene, while the Fertiliser project will produce 3.0 million metric tons per annum (mmtpa) of Urea.
"In addition, we are also building the largest sub-sea pipeline infrastructure in any country in the world, with a length of 1,100 km, to handle 3 billion SCF of gas per day. We also plan to construct a 570 MW power plant in this complex. As a matter of fact, gas from our gas pipeline will augment the natural domestic gas supply and we estimate an additional 12,000MW of power generation can be added to the grid with the additional gas from our system.
"We will be adding value to our economy as all these projects will be creating about 4,000 direct and 145,000 indirect jobs. We will also save over $7.5 billion for Nigeria annually, through import substitution and generate an additional $5.5 billion per annum through exports of the refined petroleum products, fertilizer and petrochemicals. We envisage that these projects, which would cost over $18billion, would be completed in 2019," Dangote added during the meeting.
August 1, 2017, Dangote sold a 2.3 per cent stake in his cement firm, Dangote Cement, to foreign buyers in a stock market deal valued at 86.1 billion naira ($236 million).
416 million shares of Dangote Cement were sold on Tuesday, August 1 at 210 naira each in six off-market deals negotiated between Stanbic IBTC and Meristem stockbrokers.
ALIKO DANGOTE AS A GIVER
Not only is he a great businessman whose business empire spreads across the African continent, Dangote is also a marvelous giver who is known for his philanthropic acts.
In 2014, Dangote revealed that he will only give a part of his money to charity. Between 2012 – 2014, the owner of Africa's largest conglomerate, spent a whopping N30 billion ($185 million), making it the largest expense on charity either by an African individual or company.
Some of Dangote's charity programmes include the Dangote Academy worth about N1 billion ($6 million), which aims to develop manpower across various disciplines.
In 2012, Dangote made the donation of N2.5 billion to cushion the effect of flooding in Nigeria- the single highest donation by a private body in the history of Nigeria. N430 million was also given to flood victims, unemployed youths and women in Kogi State in the same year.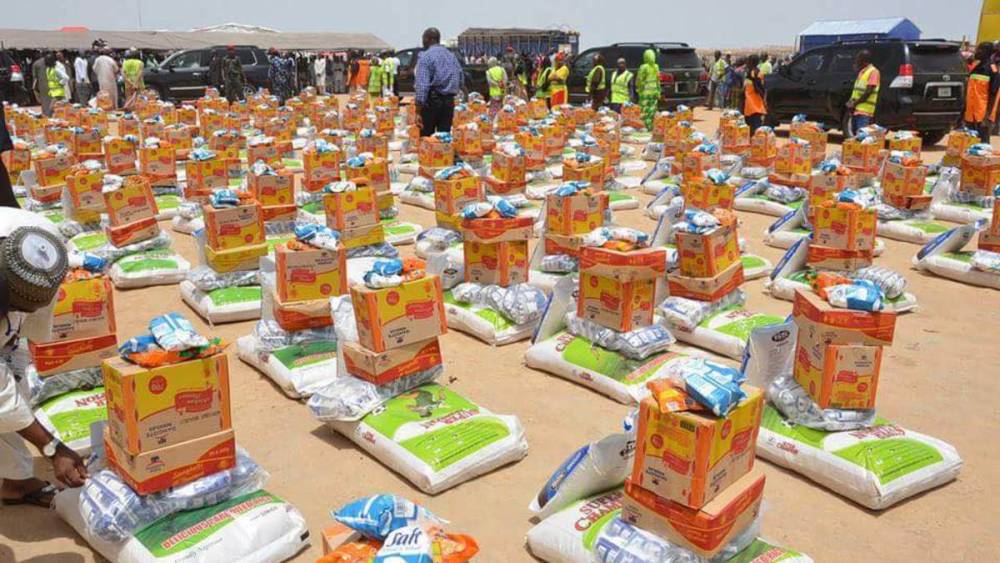 Dangote electrified 15 villages in Benue State at the cost of N115 million. He also donated N100 million to victims of Lagos flooding, another N100million to those in Sokoto and N60million to victims of flooding in Oyo State, two years ago.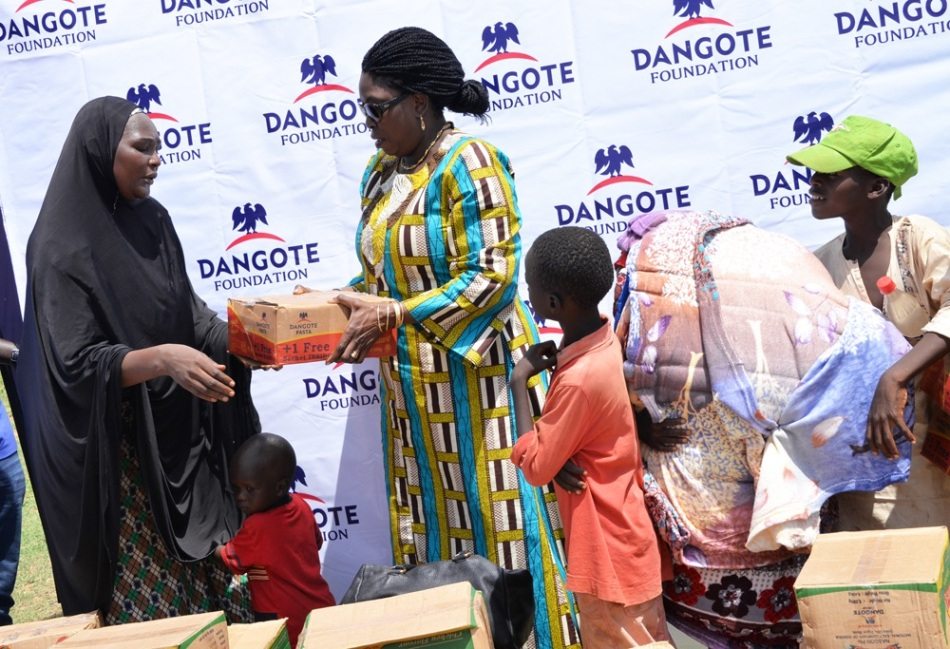 In 2014,  Dangote group donated N540 million to vulnerable women as a result of insurgency in the North East of Nigeria as well as donating 12 trailer-load of relief items worth N40 million to support the government in bringing succor to victims of communal clash. That same year the Nigerian government said Dangote had donated 150 million Naira to halt the spread of Ebola.
Dangote has also been involved in aiding foreign nations with $500,000 donated to victims of explosion in Republic of Congo; $2 million contributed for flood victims in Pakistan; and $740,500 to cushion the effect of famine in Niger Republic.
In 2016, Dangote donated $10m to help families affected by Boko Haram's  insurgency in Borno state, northeast, Nigeria. That same year, Dangote approved the sponsorship of about 800 Nigerians to India, to learn the operations of a petrochemical refinery.
This is aimed at creating employment within the Nigerian economy, rather than importing expatriates to run the first private refinery in Nigeria.
Similarly, this Africa's richest man, has also donated money and equipment worth over N50m to victims of the March 8, 2017 clash between Hausa and Yoruba persons in Ile-Ife, Osun state, southwest Nigeria.
June 2017, saw Dangote donating food items worth more than N200 million to the Internally Displaced People in Borno State to complement government's humanitarian interventions. The food was estimated to take care of about 371,000 IDPs.
July 2017, Dangote donated N50 million naira to the victims of the of the crisis in Mambilla Plateau in Sadauna Local Government Area of Taraba State.
ALIKO DANGOTE AS AN ACADEMICIAN
As part of his contribution to Nigeria's educational sector, Dangote has spent N1 billion on the rehabilitation of some Nigerian universities.
In 2005, Dangote contributed N200 million to the Presidential Library also known as the Olusegun Obasanjo Presidential Library (OOPL).
In 2013, Dangote presented a cheque of N10 million scholarships to indigent students of Mbayion community in Gboko Local Government Area of Benue state.
March 2015, Dangote pledged to award scholarships to the physically-challenged, who desire education part of his contributions to empower the less-privileged.
That same year,  Dangote Foundation made a scholarship donation of N20 million to James Hope College Agbor, in Delta State. The scholarship is to cover the selected indigent students' school fees all through their secondary school years.
In 2016, Dangote awarded multi-million naira scholarships to 14 students in various higher institution of learning and secondary schools in Ibese community in Ogun State, southwest Nigeria. The scholarship awards, which covers all fees payable in the schools, were presented to the beneficiaries at the Ibese premises of the Dangote Cement Company amidst pomp, with parents of beneficiaries showering encomiums on Dangote Cement.
In June 2017, Dangote sponsored Trade Fair organized by the Niger Chamber of Commerce, Industry, Mines and Agriculture.
Dangote Group has been sponsoring Trade Fairs in the country in its determination to encourage investments in Nigeria and bolsters the economy. The Group is also investing $450 million in the agricultural sector of Niger State.
ALIKO DANGOTE AS A SPORTSMAN
Not only is he Africa's richest man and a great philanthropist, Dangote has also shown his love for sports especially football.
On 23 May 2010, Britain's Daily Mirror reported that Dangote was interested in buying a 16 per cent stake in Premiership side Arsenal belonging to Lady Nina Bracewell-Smith. Dangote later denied these rumours.
During a television interview in New York, United States in 2016, the Nigerian billionaire revealed that he plans to buy English Premier League team, Arsenal, within the next four years – a bid that could make him the first African owner of a Premier League club if successful.
Dangote however disclosed that he is not in a position to acquire Arsenal now because his finances are committed towards completing more than $20 billion worth of infrastructure projects, including the construction of a refinery.
Though football fans in Nigeria believe he should invest the money in the Nigerian Professional Football League (NPFL), Dangote in the other hand is of the opinion that "the issue is that if I buy all the Nigerian clubs, the Nigerian flags will continue to remain here. But buying Arsenal will take the Nigerian flag worldwide. Just like whenever Abramovich is mentioned, the name of his country, Russia comes up. Everyone knows he's Russian," Dangote had said.
ALIKO DANGOTE AS THE RICHEST MAN IN AFRICA
Dangote surpassed Saudi-Ethiopian billionaire Mohammed Hussein Al Amoudi in 2013 by over $2.6 billion to become the world's richest person of African descent. In 2014, he was ranked 37th richest man in the world with a net worth of $25 billion.
The business tycoon was ranked 51st in 2016 with a net worth of $15.4 billion. However in 2017 due to the devaluation of Naira, the Nigerian currency, Dangote dropped to 105th on the 2017 Forbe's real-time billionaires' ranking with a net worth of $12.2 billion.
Even with this drastic decline, the money man still maintains the lead in Africa, as the richest man.
There are twenty one (21) African billionaires living in Africa worth a combined $70 billion. Thirteen (13) out of Africa's 21 billionaires have self-made fortunes, while the other eight (8) inherited their fortunes.
The twenty one (21) African billionaires hail from seven (7) countries: South Africa, Egypt, Nigeria, Morocco, Algeria, Angola, and Tanzania.
The mere citing of his refinery in Lagos State, has already opened up a relatively bushy, undeveloped area of the state. This no doubt is a pointer to another successful business enterprise which ALEDEH like many Nigerians can't wait to see.
Comments
comments